The press ram is moved up and down by four pulleys, the rotation of the spindles is generated by servomotors. An absolutely uniform rotation of all the spindles is ensured by an electronic synchronous control. Thus, the parallelism between the press ram and press table is always present in the synchropress®, independent of an off centre force load.
Each movement of the press ram is programmable with respect to speed, path, force and all combinations thereof.
The Servo Motor Press is universally applicable for sheet metal and bulk forming experiments.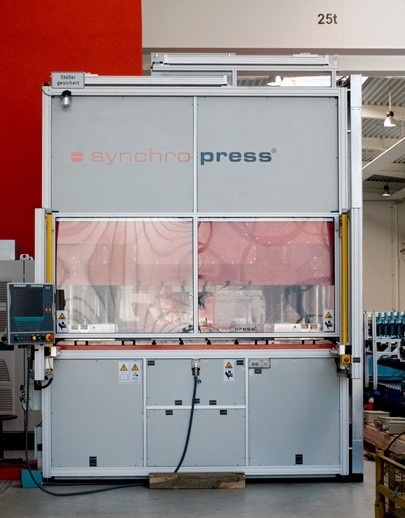 Technical data
Triple acting press
Press force: 2.500 kN
Max. retraction force: 1.250 kN
Deformation rate: 180 mm/s
Press bed width: 2,400 mm
Press bed depth: 1,500 mm
Max. stroke: 700 mm
Die cushion area: 500 mm x 200 mm
Die cushion force: 600 kN