Our rotary swaging machine is a recess hammering machine with 4 dies of the company HMP type UR8-4-DD-50LH-CNC, which is suitable for recess and infeed swaging, as well as axial/radial forming. It can be divided roughly into three main assemblies: the radial forming-unit, also known as swaging unit, the retrofitted CNC-control Siemens S 7 and the axial feeding unit.
The workpiece is fed through the feeding system into the swaging unit where the surrounding case is spinning to adjust the forming die under a compulsory mechanism.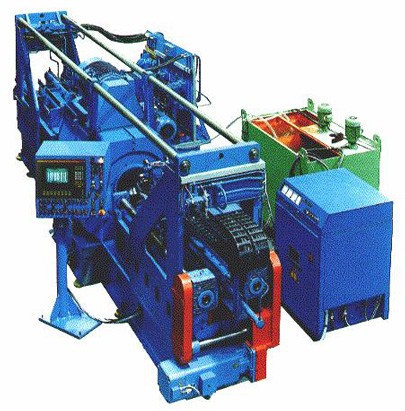 Furthermore the swaging machine has an inductor which allows the workpiece to be heated up before being fed into the swaging unit. It also consists of a counterholder for additional compression and guidance during forming. Besides the main axle, the swaging machine also has two mandrels which can be used for both-sided forming of the inner contour.
The force- and path-controlled movement of the mandrels allows a great variety of shapes for the processed workpieces.
Feeding System
The feeding system provides a maximum traverse path of around 915 mm with an exact positioning of 0.02 mm and an infeed between 0 m/min and 3.0 m/min. Maximum axial force of the feeding system is 400 kN.
Rotary Swaging Unit
The rotary swaging unit is, depending on the tool, suitable for tubes with an outer diameter of 10 mm minimum and 95 mm maximum and solid materials of 8 mm to 55 mm. The machine allows a radial infeed of 13 mm for every toolset. The working precision on the outer diameter is about 0.1 mm to 0.2 mm, meaning a tolerance class of IT11 to IT13.
At an impact frequency of 29 Hz the working stroke is approximately 0.7 mm. The maximum force on each die is roughly 1000 kN.
Technical data
Max. tube diameter: 95 mm
Swaging frequency: 30 Hz
Max. axial force: 400 kN
Max. radial force: 1000 kN
Axial infeed: 0 … 3 m/min
Axial traverse path: 915 mm
Working stroke: 0.7 mm
Number of dies: 4
Induction power: 70 kW