Roll forming, also known as longitudinal forming, is according to DIN 8586 a bend forming process with rotating tool motion. Roll forming allows the production of simple and complex steel or non-ferrous metal profiles of nearly any length. Processing high-strength and ultra-high-strength steels is a sormountable challenge for roll forming.
Roll forming has an important economic significance in the production of mid- to large-scale series. The process forms a profile from its original geometry into a desired open or closed geometry by bending it gradually with corresponding roller tools through several stands. Therefore, the geometry of the gap between the opposing profiling rollers is changing in every stand to bring in the desired deformation of the sheet.
To realize the flexible plant concept, a roll forming plant of the company Dreistern with the name "P3.200.20- Sonder" has been combined with a 45 m long machine base of the company Albert Keller Maschinenbau (AKM). The overall length of the plant is about 75 m and consists of a decoiler, a straightening device, a strip loop, an entry table, a machine base with individual modules, a profile straightening device, a laser machining center and a cutting module.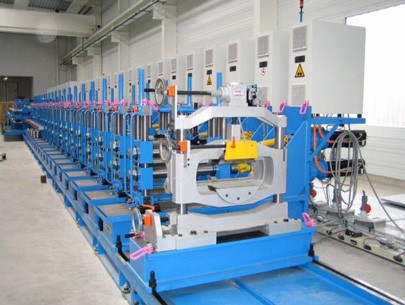 The plant features a 10 t coil for bandwidths up to 600 mm with a following 7 roller straightening device made by the company AMT. The following strip loop allows continuous and discontinuous operation. With the entry table a sheet or a strip can enter the plant.
The working height of all modules is exactly 1050 mm. The roll forming plants consist of working shafts with a diameter of 100 mm with variable center distance between 170 and 450 mm and a maximum tool width of 660 mm. The drive power of 11.3 kW in each working shaft allows forming speeds up to 100 m/min.
A Simatic-S7 control by Siemens enables an individual set up of every working shaft drive for upper and lower shaft. At the same time the position of each stand is freely selectable on the machine base by decoupling the drive electronics from the controls. The drives electronics of both shafts are located on the plant thus allowing the free positioning. The position of each plant is detected via Profibus, which allows an individual control of each drive. 20 roll forming stands with 10 side roller tables are available for individual forming processes.
Cutting module
The cutting of the sheet metal strip is achieved by a dynamic circular saw type 355 HSPI by DRY TECH. The working area is up to 100 mm in height and 140 mm in width with a saw diameter of 355 mm and a cut angle of 90°.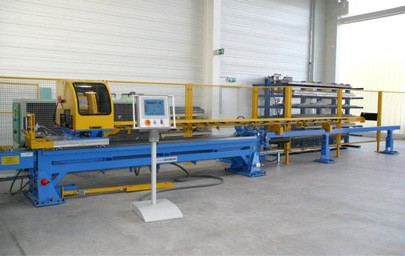 Technical data
Working height: 1,050 mm
Working shafts: Ø 100; individual drive
Center distance: variable between 170 mm and 450 mm
Tool width: 660 mm
Nominal diameter of rolls: 240 mm
Forming speed: 100 m/min