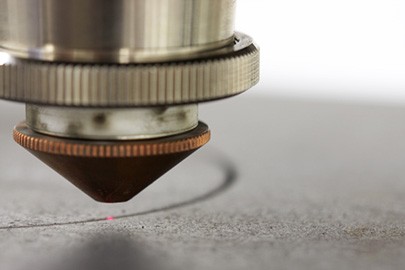 A new laser machining center exists at the PtU since April 2014 which utilizes an YLS-300-S2T laser (IGP) as beam source.
The beam guidance to the HP SSL Plus cutting head, or the Modular Welding Optics AP44 (MWO44) is enabled by fiber optics. Both machining optics are mounted to a robot gantry RLP16-26 (Reis Robotics) which allows machining operations at user-defined positions. Two different modes are selectable for the laser machining center.
Mode I (closed cabin) facilitates flexible cutting of blanks or 3D components as well as welding operations for the research projects of the PtU or teaching classes.
Mode II (open cabin) integrates the laser machining center into the linear flow splitting process of the CRC 666, enabling an inline welding or heat treatment of bifurcated profiles.
Machining Optics
Modular Welding Optics AP44 (MWO44)
HP SSL Plus cutting head
Periphery/Components
Reis robot gantry RLP16-26 (6 axis)
Fiber optics
Cutting and inert gas feed
Technical data
Power: 3000 W
Beam Parameter Product: 3,5 mm*mrad (100 µ Faser) and 7,5 mm*mrad (200 µ Faser)