TdF Practical Insight: Excursion to Thomas Group
2023/01/17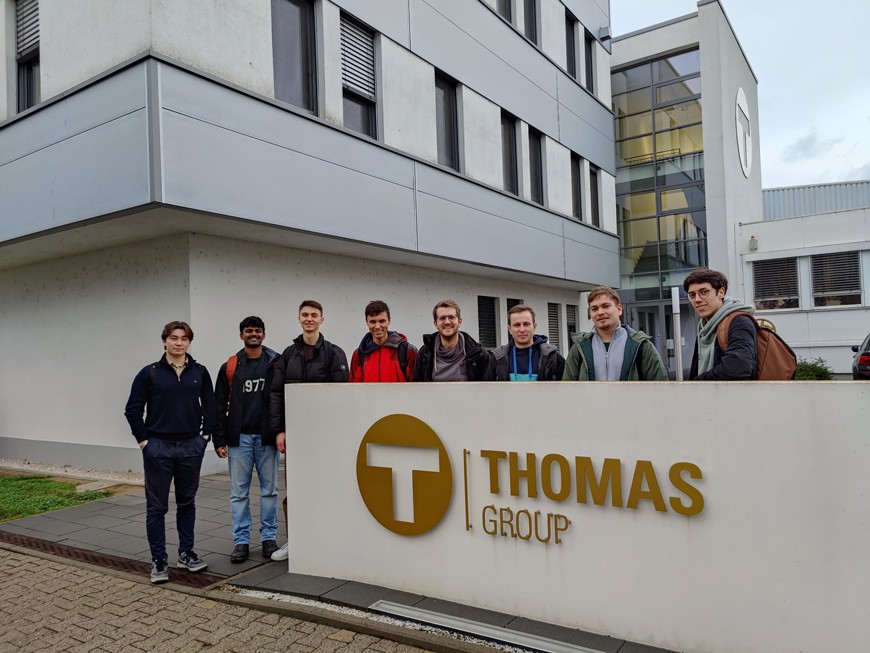 As part of the practical insight of the lecture "Technology of Manufacturing Processes" on the topic of deep drawing, a company excursion took place with the winning teams. For the excursion, the Langenselbold-based Thomas Group – the world's largest independent supplier of tinplate and aluminium components for the aerosol, pharmaceutical and cosmetics industries – issued an invitation.
The excursion took place on 11.01.2022 and started with a presentation of the history and the different locations of the company as well as an insight into the product range. One focus of the products manufactured is on valve discs for aerosol cans, such as those used for deodorant cans. Another focus is on cosmetic products, where the Thomas Group manufactures optically high-quality spray part components, such as caps or pressure caps of perfume bottles. The presses used for the production could then be viewed in a guided tour through the production areas. The tour ended with an insight into the tool shop, which is available for the production and maintenance of the press tools with very high precision requirements.
We would like to thank the Thomas Group for making the excursion possible, and Mr Johannes Hohmann for the exciting insights into the company and the production.