WGP Soccer Tournament
2022/08/30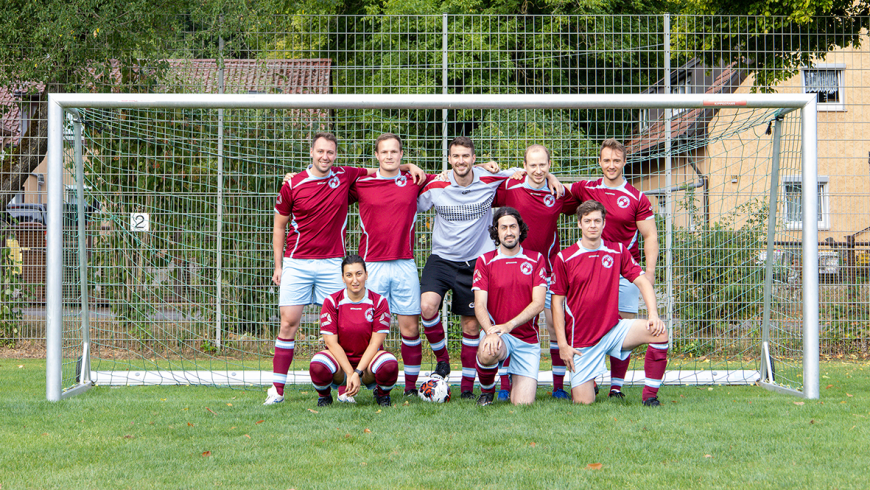 After a two-year break due to corona, the WGP soccer tournament organized by the German Academic Association for Production Technology took place again on August 18, 2022, this year organized by the Institute for Machine Tools at the University of Stuttgart. 20 participating institutes with more than 160 scientific employees from all over Germany took part in the tournament and provided a great atmosphere. The PtU provided a team consisting of 8 scientific employees.
In the group phase of the tournament, the PtU faced teams from the Universities of Stuttgart Hannover and the Technical Universities of Munich and Dortmund. With two wins, one draw, one defeat and a goal difference of 5:1, the team around captain Timon Suckow reached the second place and qualified for the quarter finals. There they met the Institute for Production Engineering and Machine Tools of the University of Hanover, which they had to admit defeat to in a penalty shootout despite a strong performance. In the small final round for places 5-8, they met their neighbors from the Institute of Production Management, Technology and Machine Tools of the TU Darmstadt in the semifinals. The city derby was also decided in a penalty shootout, in which the PTW gained the upper hand with a bit of luck. In the match for 7th place, the team finally had to pay tribute to the high effort and lost to the Institute for Machine Tools and Factory Management of the TU Berlin. Despite the unfortunate knockout phase, eighth place for the PtU, which was competing as an independent team for the first time, is a convincing success and represents the best placing of a forming technology institute.
We would like to congratulate the Institute of Machine Tools and Production Technology of the TU Braunschweig for winning the tournament and thank the Institute for Machine Tools of the University of Stuttgart for the excellent organization of the tournament, the subsequent evening event and the visit of the institute.