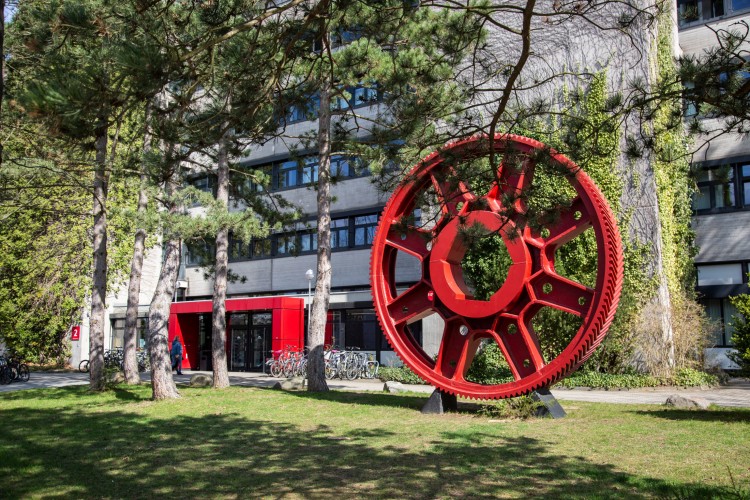 Picture: PTW TU Darmstadt
Visit us!
You will find the PtU at university campus »TU Lichtwiese« in building no. L1|01 (mechanical engineering). The building can be identified by the large gearwheel in front. At arrival, please register at the office in room 148 on the first floor.
From Autobahn A 5 (Frankfurt – Basel) or Autobahn A 67 (Köln – Mannheim) take exit »Darmstadt« at Autobahn junction »Darmstädter-Kreuz« follow direction »Darmstadt Stadtmitte« (city centre) then follow the signs to »TU Lichtwiese«. Driving through the city takes about 15 to 20 minutes. Parking lots are both in front of and behind the building.
Go to bus platform 14 outside the baggage claim area of terminal 1 on the arrival level or to the bus stop at terminal 2 and take the bus »Airliner«, which goes directly to Darmstadt (travel time about 30 minutes; leaving every 30–60 minutes).
Change at the third stop in Darmstadt »Hauptbahnhof« (main station) to tram 2 exit at final destination »Darmstadt TU-Lichtwiese/Campus«.
Take the "Odenwaldbahn SE 65" Direction: Erbach (Odw.) operated by VIAS GmbH to »TU Lichtwiese«. Follow the path next to the laboratories until you reach the large red gearwheel on your right. Next to the gearwheel you find the building of mechanical engineering.
Take tram 2 to »Darmstadt TU-Lichtwiese/Campus«. The total travel time is about 20 minutes, the tram leaves every 10 minutes.