Welding without heat: Benedikt Niessen has successfully completed his doctorate
2022/10/19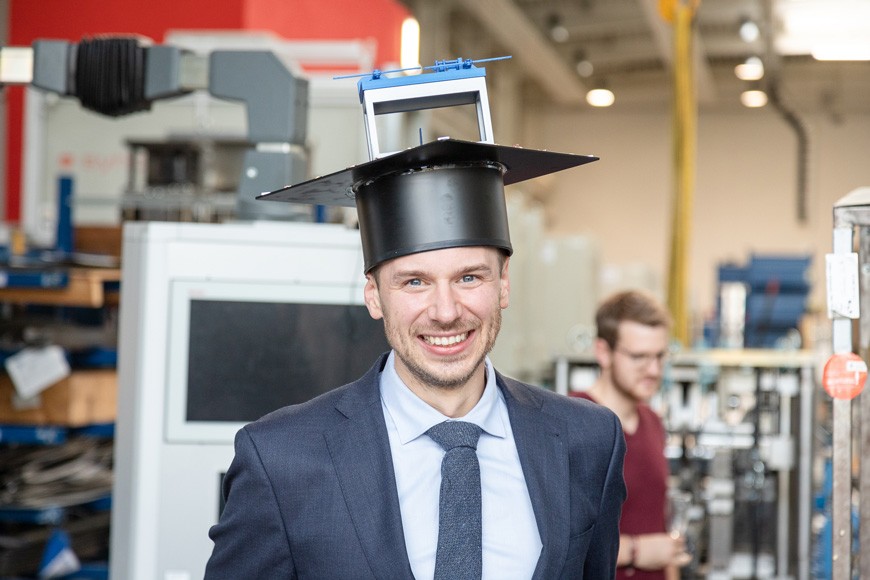 On 11.10.2022, the successful disputation of our former scientific employee Benedikt Niessen took place. His dissertation is entitled "Investigations into the robustness of collision welding processes with minimal energy input".
Modern manufacturing technology increasingly requires lightweight and smart components. One approach is to join different materials in order to achieve optimal properties. In his work, Niessen shows a new way to join different materials innovatively by means of collision welding. Here, the highly reactive metallic base material is exposed by the collision of the joining partners under high impact speeds. However, due to a lack of knowledge about the mechanisms involved, the design is usually done empirically, which is expensive and time-consuming.
To understand the basics of this process, experimental work was carried out on a specially developed test rig. In it, metal samples are attached to rotors that meet at impact speeds of up to 500 metres per second. When the metals collide with each other, the oxide layers and dirt on the surfaces are blasted away so that they can react with each other and a metallic bond is formed. A special camera makes it possible to take high-speed pictures of the impact and thus study the process comprehensively.
Niessen's research work has tracked down the fundamental phenomena in these joining processes. Thanks to fascinating slow-motion analyses, he was able to map the processes with high temporal resolution and advance the modelling of these joining processes as part of Priority Programme 1640 "Joining by plastic deformation". With his work, he now enables an increased understanding of the process and the reduction of uncertainties in industrial applications.
The PtU thanks Benedikt Niessen for his many years of commitment and wishes him all the best and much success for his professional and private future.