Excursion to KONCAST GmbH
2022/01/18
The winners of the case study "Economic efficiency of Casting Materials" were able to experience theoretical contents of the lecture "Technology of Manufacturing Processes" in industrial application at KONCAST GmbH. The company based in Weilbach is a specialist for ready-to-install cast aluminium parts in prototypes and small series in the automotive and mechanical engineering sectors.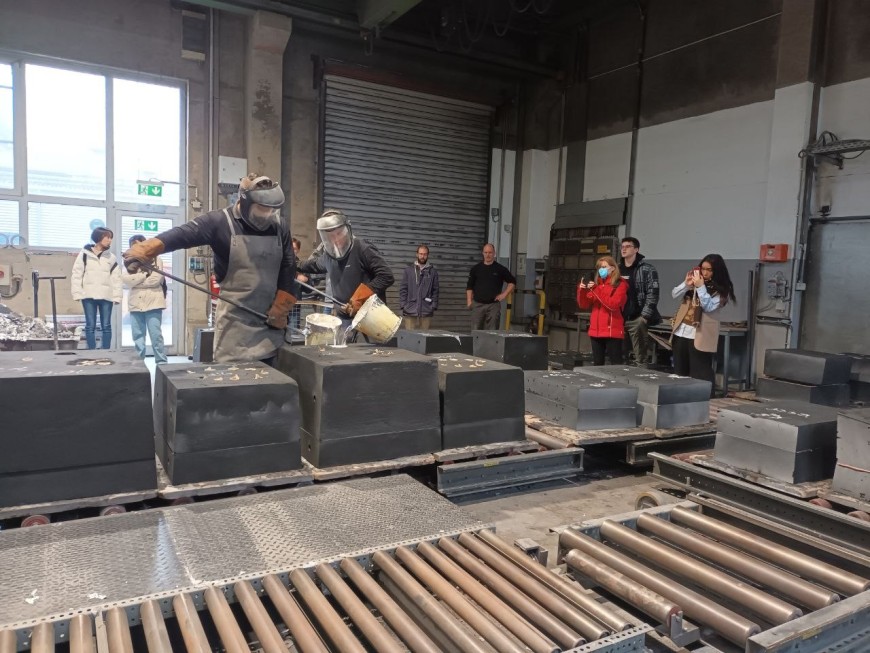 Case studies are tasks that students (or student teams) work on voluntarily during the lecture "Technology of Manufacturing Processes". The tasks are created in cooperation with companies from industry and are inspired by questions of present industrial practice. In this way, the mechanical engineering students can already gain experience in the first semester with the practical application of their acquired theoretical knowledge and get a first insight into possible branches of their later professional field.
This year's assignment on the topic of "Economic efficiency of casting materials" dealt with technical and economic issues relating to the production of a fan wheel using an aluminium sand casting process. During the tour of the company KONCAST GmbH, the production of this fan wheel could be observed in reality. In addition to the participants from the current winter semester 2021/22, last year's participants were also given the opportunity to take part in the excursion, as the excursion to KONCAST already planned last year could not take place due to corona-circumstances.
The students were able to experience the aluminium sand casting process very close to the process and thus gain an immediate impression of all the required production steps. In the subsequent final round with Mr Ruoff with snacks and drinks, both the technical and commercial issues were discussed with the interested students.
We would like to thank KONCAST GmbH and especially Mr. Rainer Ruoff for their hospitality and the interesting insights into aluminium sand casting.