Excursion to Daimler plants Kuppenheim and Gaggenau
2018/07/01
25 students visited the press plant Kuppenheim and the test facility "Sauberg" in Gaggenau within the scope of the lecture "process chains in automotive industry".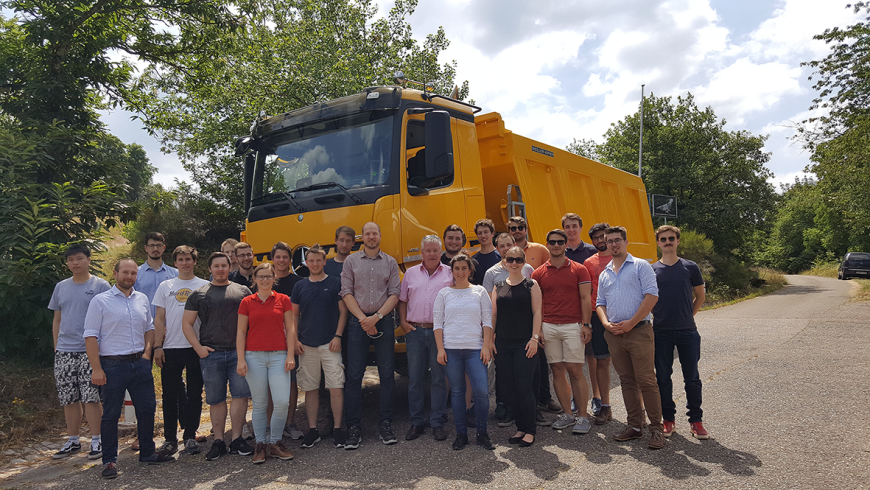 PtU offers the lecture "process chains in automotive industry" in cooperation with Daimler AG. The lecture given by Dr.-Ing. Steindorf offers deep insights into the processes in automotive industry.
The lecture scheduled this summer term deals with the implementation and the design of real process chains. In addition to the lecture, Daimler offers an excursion for illustrating the content of the lecture. The plant in Kuppenheim was visited this term again. The students were informed about the processes in a press plant here. A novel laser center used for cutting blank outlines was presented in particular. The site in Kuppenheim is unique in Germany, since this factory was recently built on green field and therefore meets the requirements of state of the art regarding both machine design and the organisation of processes and material flow. After the guided tour through the factory the students were invited for lunch with the executives of the plants in Kuppenheim, Rastatt and Gaggenau.
In the afternoon, the second destination of the excursion, the test facility for trucks "Sauberg", was visited. Due to the nice weather as we are used to from previous years, a live demonstration was possible and showed the capabilities of recently developed trucks.
The PtU thanks Daimler AG and especially Mr. Dr.-Ing. Steindorf, Mrs. Trapp and Dr. Heuer for hospitality and efforts.